NovaTec Internet Pathfinder NIP
NovaTec Internet Pathfinder NIP – the combiner and advanced application between VoIP and ISDN as SIP Gateway.
With no need to change your ISDN Infrastructure (fax, data and video conferencing), in fact the gaining of more advanced features such as least cost routing for telephony, fixed network, GSM calls and also Internet telephony, and allowing high double figure savings in your telephone bills, this is the killer application to rival the already killer application VoIP.
The ISDN structure is transported fully transparently into IP Data, therefore allowing for example your employees to completely mirror their workplace anywhere in the world where an IP network is available, also allowing you to mirror all your ISDN features in the workplace direct to your home office, starting from video door cameras and even video conferencing, and going as far as allowing all calls made to your office, being able to be taken in your home office at the company's expense over the Internet, and for companies with sub-branches abroad can now speak to their employees in these office free of charge, or when used in conjunction with the NMG if into the mobile network, for the cost of a local mobile to mobile call.
Innovation Award for the NovaTec Internet Pathfinder
The Initiative Mittelstand (a German B2B online marketing platform) awarded the Innovation Prize 2007 ITC in the VoIP category to the NovaTec Internet Pathfinder. Besides the numerous projects realised with well-known companies this is a further proof of the quality of this VoIP Gateway.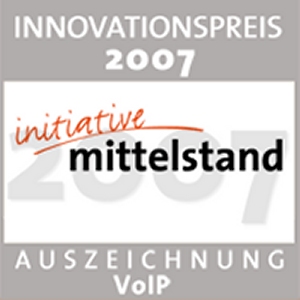 Are you interested?
Please contact our sales department.