NovaTec Mobile Gateways – GSM Gateway
The NovaTec Mobile Gateway (GSM Gateway – NMG) is the solution for cost effective direct connection in to the mobile networks.
The NMG allows your PABX to access from the ISDN telecommunications directly into the GSM Network, which can then provide savings of up to 65% on fixed network to Mobile telephone connections. The NMG is assisted in this with the high performance Advanced Least Cost Router (ALCR) which determines the cheapest route that a call can take.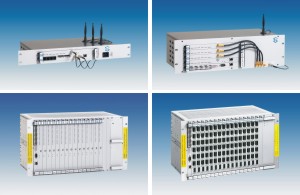 The NMG can also be used as a back-up in case of ISDN network failure, "Disaster Recovery". The GSM Mobile Gateway provides the possibility to cut costs in the following ways:
Calls from the desktop telephone to the GSM network can be expensive, so the NovaTec Mobile Gateway routes these calls from the PBX to the GSM Network via its own SIM cards and GSM Engines converting the call, instead of Fixed Line to GSM, but to a GSM to GSM call, in some cases this could be a cost reduction of up to 50 percent.
These calls can be made to different network providers as required and routing is automatic through the Least Cost Routing software within the NovaTec Mobile Gateway.
Fixed Net Least Cost Routing is also incorporated within the System and once configured can be changed according to requirements.
Additional features include the possibility to link all outstations/other branch offices within a company to the same NovaTec Mobile Gateway thus providing the same cost cutting features to Sales reps or other company employees, who are not in the same location as the main company headquarters.
With the Call-Back function, which is possible Nationally/Internationally, GSM or Fixed Network, the cutting of GSM phone charges can be realised. When for example employees are on off site visits, he calls a certain number within the NovaTec Mobile Gateway; the Gateway will immediately call him back (without the employee noticing that it is Call-Back). As a consequence the company needs no longer to review its employee's telephone bills and is also still realising cheaper rate Mobile and International calls. Permission classes can be set in a priority list for which employees can dial internationally, nationally or internally on the Call Back system, so giving the Company complete control of charges and telephone accessibility.
Benefits:
A cost effective access to the GSM telecommunications Network for incoming and outgoing calls.
Fast GSM call set-up. No more bottlenecks with calls having to be routed first through the fixed network.
Fixed Network Least Cost Router, allowing the GSM Gateway to be positioned before or after the PABX.
Precise Charge information (CDR'S) for both GSM down to individual SIM cards and Fixed Network calls can be generated in real time.
Call-back functions in all configurations, e.g. Fixed Network/GSM National or International.
Full Remote control management system, via Local connection, ISDN dial-in or via IP, allowing Real time monitoring down to each individual SIM card/GSM Channel and also reloading of SIM cards, for changes in budgeting whether time or price dependant.
Basic Features of the NovaTec Mobile Gateways (GSM Gateway):
A modular construction allows a wide range of specifications, allowing complete customer requirements to be catered for.
Various models to accommodate all users, from SOHO/Home up to large corporates or wholesale terminations.
Antenna Combining Units reduce the need for multiple small antennas.
Hot swappable units to allow exchange of units within an operating system.
Combinations of interfaces: E1, PRI (Primary Rate Interface), BRI (Basic Rate Interface S/T), S0 and U0 and GSM.
SMS – Email – SMS functionality, allowing Emails to be sent as an SMS and vice versa, emails SMS can be received as emails using any internet mail programme, also to multiple targets.
B Channel Allocation – allowing each B Channel to be mapped to and individual SIM card, e.g. B-Channel 1 on the E1 always uses the first SIM card.
Call Data Records show all required information e.g. Port ID, Interface ID, ISDN B Channel, and the ICC ID (SIM Card ID).
Remote maintenance with the Trace Info Client shows detailed Layer 1/2/3 and ASR Information, Fall-back to other Trunk Groups if call fails and Call Data Records.
Advanced Features of the NovaTec Mobile Gateways (GSM Gateway):
The monitoring software allows real-time Call Server details either via ISDN or IP, including SIM card ID, Causes, Duration of call, call charge, Port ID and B Channel and all other relevant required information.
Call Home events to the Network Management system for automatic upgrades upload of CDR'S to your server, SIM Budget information, and refresh of SIMs, either via ISDN or IP.
Advanced Trace Info functions with precise SIM individual information:
OSI Layer 3 Analysis Data tracing in: IMSI, IMEI, ICC-ID

Budget (actual expiration and Limit)

Home Carrier/Actual Carrier

GSM Engine data (name, manufacturer and firmware version).

Cell ID-LAC, Last release reason, Active connection.

SIM Multiplexing Units for choice of 1, 2, 4 or 5 SIM cards per GSM channel.

Budget assignment per SIM card, enabling blocking or switching of Individual SIM cards or GSM Ports to the next available SIM card when either time or budget expired.

SIM Server Technology for the deployment of GSM Gateways without SIM cards (local backup SIM cards may be installed for breakdown in IP Network).